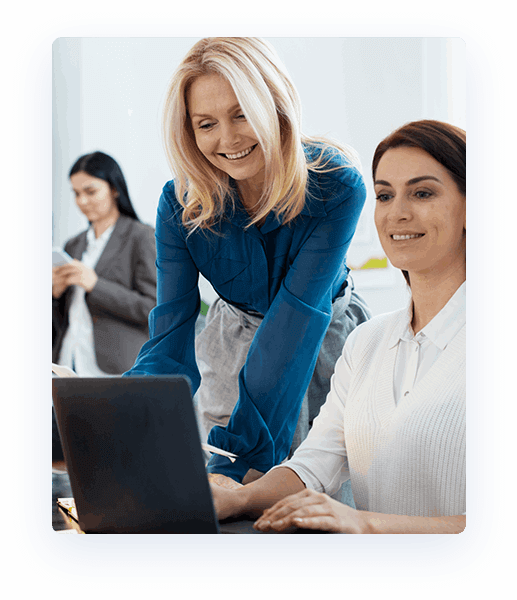 UX design and CRO
Are you looking to get the most out of your website?
Our UX design and CRO services can help you create an experience that will keep customers coming back. We understand how important it is for your business to stay ahead of the curve, so we offer comprehensive solutions tailored to meet your specific needs. With our expertise in UX design and conversion rate optimization, we can ensure that your website is optimized for maximum success. Take advantage of our services today and see how they can help your business grow. Schedule a free consultation now and discover how our solutions can benefit you!
We provide UX design and CRO services to help you achieve the best possible results for your website. Here are a few scenarios when our services can be of great benefit.
We work across all sectors
Our Latest Case Studies
explain how we work
Improving Accessibility on Your Website
Making sure everyone can access information on your site is essential—not only from an ethical standpoint but also from a legal one too! Our experts will assess current accessibility levels then suggest improvements based on WCAG guidelines so everyone can benefit from using your site no matter their abilities or circumstances.
Our Services for UX Design & CRO
Welcome to our services page! Here you'll find a range of solutions that can help you optimize your user experience and conversion rate. Whether you're looking for UX design, user research and analysis, usability testing or wireframing and prototyping, we have the expertise to deliver results. Read on to learn more about our services.
Experience Our UX Design and CRO Services Everywhere
Our UX design and CRO services are used to create a better user experience across multiple platforms. Discover how our services can help you get the most out of your digital products!
Websites
We understand that websites are often the first point of contact for customers, so it's important to make sure they have an enjoyable experience. With our UX design and CRO services, we can ensure that your website is optimized for maximum engagement.
Mobile Apps
Mobile apps offer a unique opportunity to engage with users on-the-go. Our UX design and CRO services will help you create an app that meets all user needs while also delivering an enjoyable experience.
Software Applications
Software applications require careful consideration when it comes to usability and user experience. We provide comprehensive UX design and CRO services to ensure your software application is easy to use, intuitive, and engaging for all users.
Wearables
Wearables are becoming increasingly popular, but they come with their own set of challenges when it comes to user experience. We specialize in creating wearable experiences that are both functional and enjoyable for users.
Virtual Reality Experiences
Virtual reality offers a unique way for users to interact with content in immersive environments. Our UX design and CRO services will help you create virtual reality experiences that captivate users while also delivering on functionality.
Augmented Reality Experiences
Augmented reality provides an exciting opportunity to bring content into the real world in innovative ways. Our UX design and CRO services will help you create augmented reality experiences that keep users engaged while delivering value.
Video Games
Video games require careful consideration when it comes to providing players with an enjoyable experience without sacrificing gameplay mechanics or difficulty levels. Our UX design and CRO services will ensure your video game meets all these criteria while still being fun!
eCommerce Platforms
eCommerce platforms must be designed with usability in mind if customers are going to complete purchases successfully every time they visit your store. With our UX design and CRO services, we'll make sure your eCommerce platform delivers a seamless shopping experience for all customers no matter what device they're using or where they're located in the world!
Social Media Platforms
Social media has become one of the most powerful marketing tools available today, but its success depends on how well it engages with its audience – something we excel at! With our UX design and CRO services, we'll make sure your social media presence is engaging enough to capture new audiences while retaining existing ones!
Online Communities
Online communities provide a great way for people from different backgrounds or interests to come together around shared topics or ideas – but only if they have a great user experience! With our expert knowledge in this area, we'll make sure any online community you create is easy-to-use yet engaging enough for members to stay active within it long-term!
Why You Should Choose Us for UX Design and CRO
Are you looking for a reliable team of UX professionals to take your digital presence to the next level? Look no further! Our comprehensive services, experienced team, proven track record of success, customized solutions and affordable pricing structure make us the perfect choice.
Comprehensive UX Design and CRO Services
Our comprehensive range of services covers all aspects of user experience design and conversion rate optimization. From creating wireframes and prototypes to running A/B tests, our experts can help you create an intuitive interface that drives conversions. We also specialize in usability testing, analytics tracking, SEO optimization and more - whatever it takes to make your website stand out from the competition.
Experienced Team of UX Professionals
We are proud to have some of the most experienced professionals in the industry on our team. With years of experience in user experience design and conversion rate optimization, they have the knowledge and expertise to help you reach your goals. Our designers understand how users interact with websites, while our developers know how to implement effective changes that drive conversions. Together they create a powerful combination that delivers results.
Proven Track Record of Successful Projects
We've worked with hundreds of clients over the years – from startups to Fortune 500 companies – helping them increase their website traffic and conversions through improved user experience design and optimized conversion rates. Our portfolio is full of successful projects where we've delivered measurable results for our clients – proof that we can deliver what we promise!
Customized Solutions for Every Business Need
No two businesses are alike – so why should their websites be? We believe every business deserves a unique website tailored specifically to its needs. That's why we offer custom solutions designed just for you – taking into account your goals, target audience and budget so you get exactly what you need at an affordable price point.
Affordable Pricing Structure
We understand budgets are tight these days – which is why we offer flexible pricing options that won't break the bank. Whether you need a simple one-time project or ongoing support, our transparent pricing structure ensures you always get value for money without any hidden costs or surprises down the line.
Dedicated Account Manager for Each Client
We understand communication is key when it comes to successful projects – which is why each client has their own dedicated account manager who will work closely with them throughout every step of their project journey from initial planning through implementation until completion . This ensures everyone is on the same page at all times so nothing gets lost in translation!
Responsive Support Team Available 24/7
No matter how big or small your query may be , our responsive support team is available 24/7 via phone , email or chat so someone is always there when you need them . Plus , if any issues arise during implementation , we'll do everything possible to resolve them as quickly as possible.
Comprehensive Reporting & Analytics Tools
To ensure complete transparency throughout each project , we provide comprehensive reporting & analytics tools so clients can track progress & measure performance against key metrics . This helps us identify areas where improvements can be made & allows us to adjust strategies accordingly.
"I had been looking for a UX design agency in the South of England to help me with my website redesign, and I'm so glad that I found Amivo! They were incredibly helpful throughout the entire process - they provided great advice on how to improve the user experience, and their CRO services enabled us to make our website more effective and engaging. Thanks to them, we've seen a 20% increase in conversions since the launch of our new website! We couldn't be happier with Amivo's service."
"We had heard good things about Amivo from friends and colleagues, so we decided to give them a try for our e-commerce store. The team at Amivo took time to understand our business needs before creating an amazing UX design that was both intuitive and aesthetically pleasing. Their CRO strategies have also helped us drive sales through conversion rate optimization - our revenue has increased by 30% since working with Amivo!"
FAQs About Our UX Design and CRO Services
Do you have questions about the services we offer, our experience level, timeline, cost, and more? We've got answers!