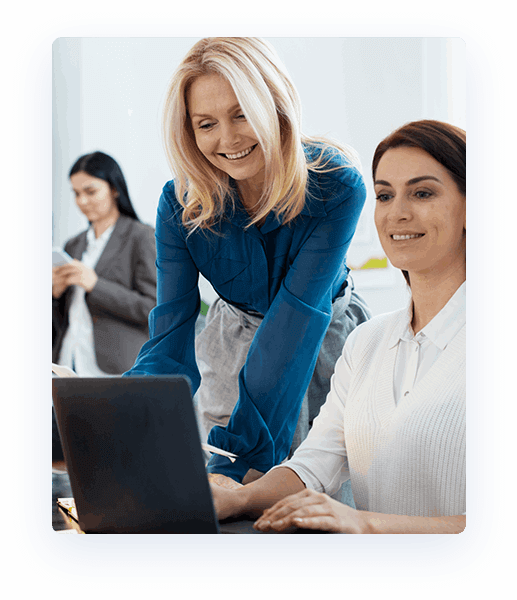 Software development
Are you looking for a software development partner to help bring your ideas to life?
Look no further! Our team of experts have years of experience creating custom software solutions that meet the unique needs of our clients. We take pride in providing exceptional customer service and delivering projects on time and within budget.
Take a look at our portfolio to see examples of the work we've done, or read customer testimonials to learn why we're the best choice for software development. You can also schedule a demo of our software development platform, sign up for a free trial, or contact us today to discuss your project needs.
Ready to get started? Request a free consultation now and learn more about how we can help you achieve success with your next project.
When You Need Professional Software Development Services
Our software development services are here to help you create, maintain and optimize your digital products. We provide a range of options that cover the full cycle of software development and support, allowing you to make informed decisions about the best solutions for your business.
We work across all sectors
Our Latest Case Studies
explain how we work
Software Development Services Overview
At Our Company, we provide comprehensive software development services to help you build and launch innovative digital products that meet your business goals. Our team of experienced developers will create custom solutions tailored to the specific needs of your project.
Places Our Software Development Services Are Used
Our software development services are used in a wide range of areas, from web applications to cloud computing solutions and artificial intelligence. Here's an overview of the places our services are used.
Web Applications
You're probably familiar with web applications - they're all around us! From online shopping sites to social media platforms, web apps can be found almost everywhere. We provide software development services for custom-built web applications that meet your unique needs.
Mobile Applications
Mobile apps have become essential for businesses today. We develop mobile apps for both Android and iOS devices, ensuring that you get the best user experience possible on every device.
Desktop Applications
Desktop applications are still very much alive! We provide software development services for desktop apps that run on Windows, MacOS, or Linux systems. Whether you need an app for data analysis or something else entirely, we can help you out.
Embedded Systems
Embedded systems play a key role in many industries today - from manufacturing to healthcare and more. Our team is experienced in developing embedded systems solutions tailored to your exact needs and requirements.
Cloud Computing Solutions
Cloud computing is quickly becoming the norm in business today. We provide comprehensive cloud computing solutions that make it easy to store, manage, and access data from anywhere in the world - securely and reliably!
Networking Infrastructure Solutions
Networking infrastructure plays an important role in keeping businesses connected across different locations and countries - as well as within one building or office space! Our software development team can create custom networking infrastructure solutions that meet your specific needs and requirements.
Artificial Intelligence & Machine Learning Solutions
AI and machine learning technologies have come a long way over the past few years - making them invaluable tools for businesses today! Our team has extensive experience developing AI-based solutions tailored to each client's individual needs.
Internet of Things (IoT) Solutions
The Internet of Things (IoT) is quickly becoming one of the most important technologies in modern business operations - allowing companies to connect devices together into one unified system for better efficiency and accuracy. Our team provides custom IoT solutions tailored specifically to your organization's unique needs and requirements.
Data Analytics & Business Intelligence Solutions
Data analytics & business intelligence (BI) are essential tools for understanding customer behavior patterns, improving operational efficiency, uncovering trends & insights about market conditions, etc.. Our experienced developers can create custom BI solutions designed specifically for your organization's goals & objectives.
Why You Should Choose Us for Software Development
Finding the right software development partner is a crucial decision. At Amivo, we offer experienced teams, proven success, and a range of services that make us an ideal choice.
Experienced Team of Software Developers
Our software developers are highly skilled and have years of experience in their respective fields. They are well-versed in all the latest technologies and platforms and can develop solutions tailored to your specific needs. Our developers stay up to date on industry trends, ensuring you get the most out of your project.
Proven Track Record of Successful Projects
We have successfully delivered hundreds of projects over the years for clients across various industries. We understand what it takes to develop successful software solutions that meet customer requirements, from initial concept to final delivery. Our expertise ensures you receive top quality results on time and within budget.
Wide Range of Technologies and Platforms Supported
Our team is capable of developing applications using a wide variety of technologies and platforms, including web, mobile, cloud computing, big data analytics, artificial intelligence (AI), machine learning (ML), Internet-of-Things (IoT), DevOps automation tools, blockchain technology, and more. We also provide custom solutions that can be integrated with existing systems or applications as needed.
Comprehensive Quality Assurance Processes
We employ rigorous quality assurance processes throughout our development process to ensure that all deliverables meet the highest standards possible. This includes comprehensive testing protocols at every stage—from coding through deployment—to ensure performance is optimized for both desktop and mobile environments.
Customized Solutions to Meet Your Needs
Our team has extensive experience in creating customized solutions designed specifically for our clients' unique needs. We take the time to understand your objectives before developing a solution tailored to fit them perfectly—ensuring maximum efficiency while minimizing cost along the way.
Timely Delivery of Projects
At Amivo, we understand how important timely delivery is when it comes to software development projects—which is why we always strive for prompt completion without compromising on quality or functionality in any way whatsoever! Our experienced teams work diligently towards meeting tight deadlines so you can get your project up and running quickly with minimal disruption or delay.
Cost-Effective Pricing Options
We offer competitive pricing options based on each client's individual needs so they don't have to pay more than necessary for their project requirements! Whether you need an entire application developed from scratch or just some minor modifications made to an existing system—we will work with you closely to come up with a pricing plan that fits your budget perfectly!
Dedicated Support Services
We provide ongoing support services even after delivery so our clients can rest assured knowing their applications will continue performing optimally into the future! Our dedicated support staff are available 24/7 should any issues arise during implementation or usage down the line—ensuring maximum uptime no matter what!
"I'm so glad I found Amivo! Working with them has been a pleasure - they've helped me to develop a custom software solution for my business in London. They took the time to understand my needs, offered expert advice and guidance, and created a system that has revolutionised the way we work. I can't recommend them highly enough!"
"Amivo have been an absolute godsend for our company in Southampton. We needed help with developing our own software platform and they were able to provide us with exactly what we needed quickly and efficiently, giving us a competitive edge over our rivals. Highly recommended!"
"We recently worked with Amivo on a project in Brighton and couldn't be happier with the results! Their team was professional yet friendly throughout the entire process, taking into account our input when creating the perfect piece of software for our business. Highly satisfied customers here!"
"Our company in Portsmouth had very specific requirements when it came to developing software solutions and Amivo managed to deliver beyond expectations! Their attention to detail is remarkable and their knowledge of programming languages was invaluable; they provided us with exactly what we needed in no time at all!"
Software Development Services FAQs
At Amivo, we offer a range of software development services that can be tailored to meet your needs. Here are answers to some frequently asked questions about our services.
Call 02380 970979, or Get a call back
Our digital experts
are available right now
Take your business to the next level with Amivo's comprehensive brand development services!
Contact us today for more information about how we can help you create an unforgettable brand and establish a strong presence in your industry.
We're Ready to Help!
Our experience design arm, method, helps businesses connect the dots
Questions we get asked about our service.
Amivo provides a wide range of services related to brand development including research, strategy planning, identity design, messaging, and more.
The timeline depends on the scope of the project but typically takes anywhere from 2-4 weeks.
Yes! We guarantee 100% satisfaction with all our work or your money back. We'll keep working with you until you're happy.
Our process is comprehensive and detailed, starting with a discovery session where we learn more about your business objectives and design preferences. We then move onto creating multiple logo concepts for you to review before refining them into a single design. Finally, our designers will provide you with a range of versions of the logo – from low resolution to vector files – so you can use it on any platform or device.